Venue
PWD Grounds,Vijayawada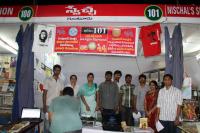 Swecha has put up a stall at the ongoing Vijayawada Book Fair being organized at PWD Grounds in Vijayawada. The book fair was inaugurated on the 1st  of January, 2015     and the stall received a reverberating response. All the visitors to the stall commended the work done by Swecha in bringing out 'Swecha OS' in telugu.
"I have been feeling bad that the number of telugu speaking people is reducing day by day. Being an ardent admirer of telugu, I feel glad on seeing the kind of work Swecha     has been doing to promote the language in one of the most revolutionary technologies of the present day- computer. I congratulate the Swecha team and hope that they     continue to do the kind of work they're doing," said by a visitor
Apart from Swecha OS, e-Swecha and Bala Swecha would also be displayed and put up for sale of T-shirts and stickers.
Swecha humbly appeals to all of its well wishers and supporters to ensure that the information about the book fair and the Swecha stall reaches as many people as possible. Come. Be a part of the fight for freedom in computing!