Swecha conducted a two day convention on Network communications at Venkateswara vignana mandiram, Guntur on 7th and 8th August. In this event Y Kiran chandra, General secretary, Free software movement of India gave guest lecture on employment generation. There were  huge participation of 700+ students from 30 different colleges of Andhra pradesh.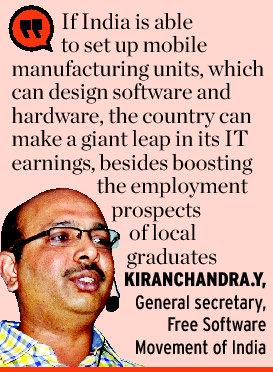 Free Software Movement of India has demanded that the Central and State governments bring in policy changes on Information Technology to give fillip to hardware manufacturing, setting up of data centres and software design centres. This, it said, is possible by establishing Information Technology Investment Regions (ITIR).
"The governments need to wake up to the reality of version 2.0 in the IT sector. Leading countries are moving away from version 1.0 - outsourcing of IT enabled services - and are creating new business models centred on automation of IT. The US recently came out with 'reshoring initiative', a job resource programme aimed at employing highly skilled software professionals from that country. India also needs to wake up and evolve its own business model to tap into the huge market in mobile manufacturing and website hosting," Kiranchandra.Y, general secretary, Free Software Movement of India, said here on Friday. He was speaking on the sidelines of a student convention hosted by Swecha, Guntur.
Mr. Kiranchandra quoted data from the mobile telephony market to augment his demand. "The annual market for mobile telephones in the country is about Rs. 16,000 crore, yet India is yet to have its own mobile manufacturing unit. The mobile handsets designed in China, South Korea and Finland are simply being relabelled and sold in the country," he said.