It is with immense pride and excitement that we announce the official inauguration of the Swecha GNU/Linux Users Group (GLUG) at Government Institute of Electronics (GIOE) Polytechnic. This momentous event, realized with invaluable support from the Cloud Community Club, marks a historic turning point in our relentless pursuit of Free Software advocacy and innovation.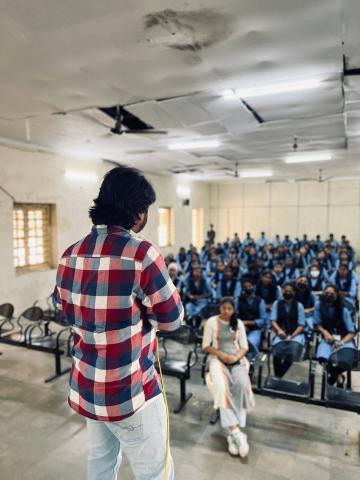 The event was graced by the esteemed presence of Mr. Ranjith Raj V, Executive committee member at Swecha. His keynote address was nothing short of inspiring, sharing his remarkable journey and the transformative role that Free Software played in shaping his career. Mr. Ranjith Raj V's impassioned advocacy for Free Software left an indelible mark on all those present, igniting a fervor to delve deeper into the world of Free Software.
As the event unfolded, attendees were treated to a comprehensive overview of Swecha's illustrious projects and their unwavering commitment to the Free Software ecosystem. Swecha's dedication to crafting impactful software solutions rooted in principles of freedom and openness was both commendable and inspiring. The highlight of the day unquestionably belonged to the unveiling of the F-Droid application.
F-Droid: Your Gateway to the World of Free Software Apps
F-Droid is a distinctive platform that hosts a wide range of Free Software apps designed specifically for Android users. It provides a convenient and secure way for users to access high-quality, Free Software applications. The F-Droid project demonstrates Swecha's commitment to making Free Software more accessible to everyone, with the potential to transform our interaction with mobile technology.
This monumental Expansion of Swecha's GLUG at GIOE Polytechnic signifies a profound shift in promoting a Free Software-centric culture within our educational institution. It underscores the pivotal importance of introducing students to the boundless possibilities of Free Software right from the outset of their academic journey.
Mr. Ranjith Raj V's stirring address has galvanized all attendees, motivating them to take an active role in the Free Software movement and contribute to the development of free software.
The showcase of the F-Droid application during the event serves as a shining testament to Swecha's tireless efforts to make Free Software more accessible to a wider audience.
F-Droid: https://f-droid.org/en/
As we embark on this promising journey, it is evident that the collaboration between Swecha and the GIOE polytechnic is just the beginning. It is a strong affirmation of the potential for Free Software to revolutionize our approach to technology and innovation. With Swecha's ongoing commitment to promoting Free Software values, we can expect further inspiring collaborations and groundbreaking projects in the future.
In conclusion, the establishment of Swecha GLUG at GIOE Polytechnic marks a significant milestone for the Free Software movement in our diploma institution and beyond. It symbolizes a promising future where educational institutions and students wholeheartedly embrace Free Software principles. Moving forward, it is clear that Free Software will flourish, inspiring the upcoming generation of tech enthusiasts and innovators. Together, we will create a more open, inclusive, and innovative future for GIOE Polytechnic and the world beyond.